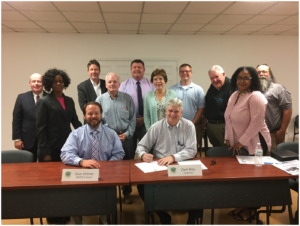 An overview of the board's role can be viewed here.
The Northeastern Workforce Development Board (NWDB) is a 19-member board appointed by the Chief Elected Officials (county commissioners) of each of the ten counties in our region. At least 51% of our board must be private sector business members. The remaining are  public sector members and represent many of our partner agencies. The private sector members are strategically chosen by county and economic sectors representative of our region.  The chairperson of the board must be a private sector member and is elected by the other board members.  View more information here and apply if you are interested in serving.
The purpose of the NWDB is to provide policy, planning and oversight for local workforce development programs and to address workforce issues as identified by the communities that they represent. The NWDB is responsible for designing a service delivery system that meets the needs of local businesses who are trying to find qualified applicants to fill their employment openings by providing training scholarships to those individuals who are eligible and basic employment services and referrals to those who are not.
The board has five committees – Leadership, NextGen Youth, Career Center, Business Resources & Opportunities, and Finance.  Volunteers are always welcome.
CORE VALUES
NWDB is accountable for providing leadership in building and maintaining a quality workforce delivery system in our 10-county region. NWDB will advocate for the policies and resources needed to strengthen the system.
The workforce delivery system includes all agencies and organizations involved in increasing the quantity and quality of workers in the region, improving worker access to jobs and increasing worker access to information about the availability of jobs and training opportunities.  The workforce delivery system also includes working with employers to facilitate employment matches.
Access to the system must be universal and equitable. NWDB will advocate for such access, identify barriers to that access (whether geographical, financial, cultural, or political) and make recommendations as how best to overcome those barriers.
Maintaining and growing a strong economy depends upon meeting the needs of businesses by having a supply of educated and well-trained workers who possess the skills needed to make our state's businesses and industries globally competitive.
A strong economy also depends on workers earning family-sustaining wages; therefore, the workforce system will strive to move workers into meaningful careers that pay sustaining  wages.
Public and private institutions and resources play a critical role in the development of an educated, well-trained workforce.
Improvements to the workforce delivery system must focus on the needs of employers and job seekers and be based on factual, relevant and timely data.
NWDB values the use of effective portals for job-seekers, workers, and employers to employment and training services including the One Stop Delivery System as a primary portal.
The NWDB shall work to build workers professionalism, integrity and adaptability giving the worker the skills necessary to be a valuable employee in any industry and to be responsive to evolving employer needs and emerging technologies.
The NWDB workforce delivery system must be able to adapt quickly to the demands of the 21st Century economy and embrace continuous learning.
MISSION  STATEMENT
The NWDB fosters employment of northeastern North Carolinians by enriching the skills and suitability of candidate employees for the businesses of the region.
VISION STATEMENT
Citizens and businesses of the northeast region will rely on the NWDB to promote the growth of well-paying jobs in new and existing businesses.  Citizens in the region will be able to find satisfying employment here, and will choose not to move away.
To resolve workforce issues and challenges, businesses and regional governments will seek NWDB support to meet Northeastern North Carolina employment needs.  NWDB will seek resolution using all available training and funding sources.
 Businesses will to look to the NWDB as an expedient provider of desirable employment candidates.  Our board's programs will be relied upon as instrumental in improving the regional workforce by bringing together existing businesses, colleges, economic development groups, trainers, councilors, and local and state governments.